Live Webinars
Founder and CEO Jodi Cohen discovered a surprisingly accessible answer to the stress, isolation and depression and disconnection that has become an epidemic during the pandemic.
Jodi Sternoff Cohen is a bestselling author, award-winning journalist, functional practitioner and founder of Vibrant Blue Oils, where she has combined her training in nutritional therapy and aromatherapy to create unique proprietary blends of organic and wild-crafted essential oils. She has helped over 70,000 clients heal from brain related challenges, including anxiety, insomnia, and autoimmunity.
Her website, vibrantblueoils.com, is visited by over 500,000 natural health seekers every year, and she has rapidly become a top resource for essential oils education on the Internet today. Her first book "Healing with Essential Oils" is available on Amazon.com. Her new book "Essential Oils to Boost the Brain and Heal the Body will be released March 16, 2021.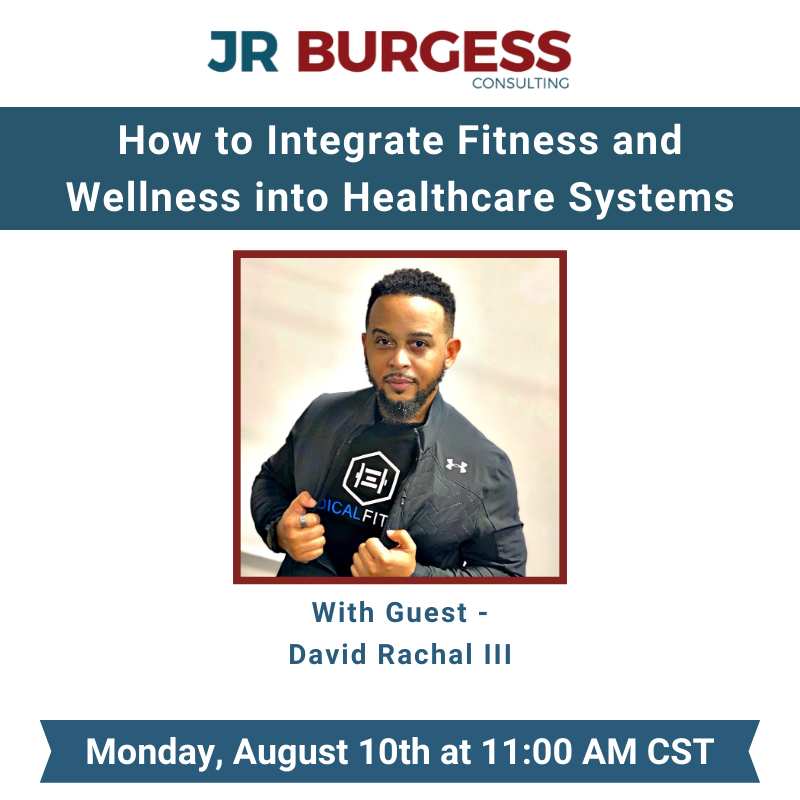 The current state and uncertainty the healthcare system brings has required diligent focus from physicians, private practices and hospital systems to formulate solutions. The current structure brings intense challenges for private practices to survive. With rising healthcare costs, reimbursements continue to experience cuts, leaving many medical systems vulnerable. The upside is that there is a large opportunity for practices to protect their futures by adding cash-based models and preventable care to their current standard. This model will restore health in patients and it is proving to mature at an extraordinary pace. Join David and JR on a next-level conversation on how to get fitness and preventative services covered in your practice.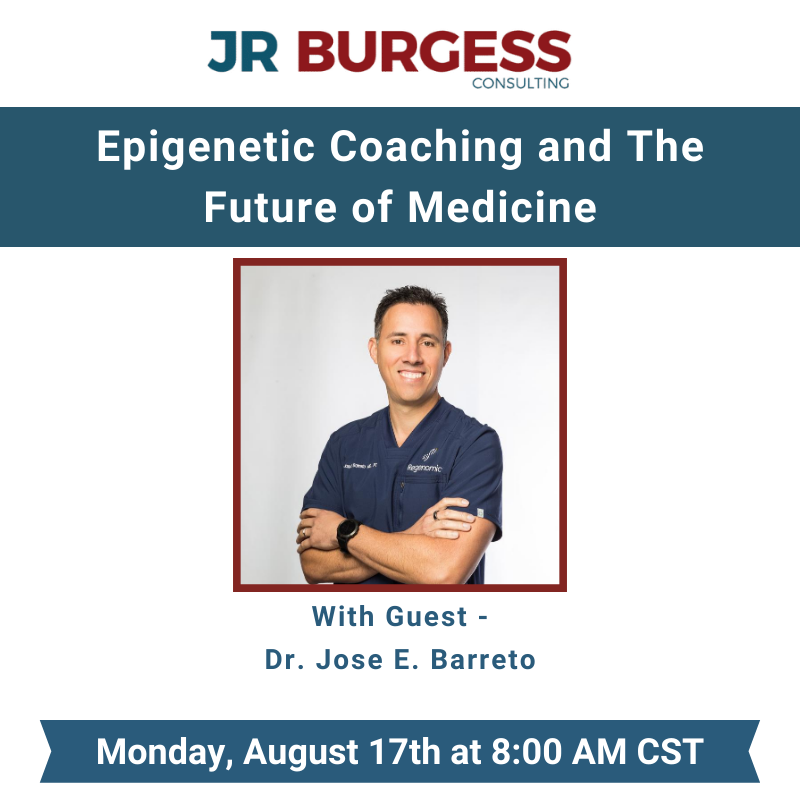 New technologies have made it possible to assess your genetic profile at an affordable cost. There are currently over 200 ongoing clinical trials in the field of Epigenetics. The analysis of your DNA allows the application of the "N of 1" approach. Epigenetic coaching is the personalization and part of the future of medicine.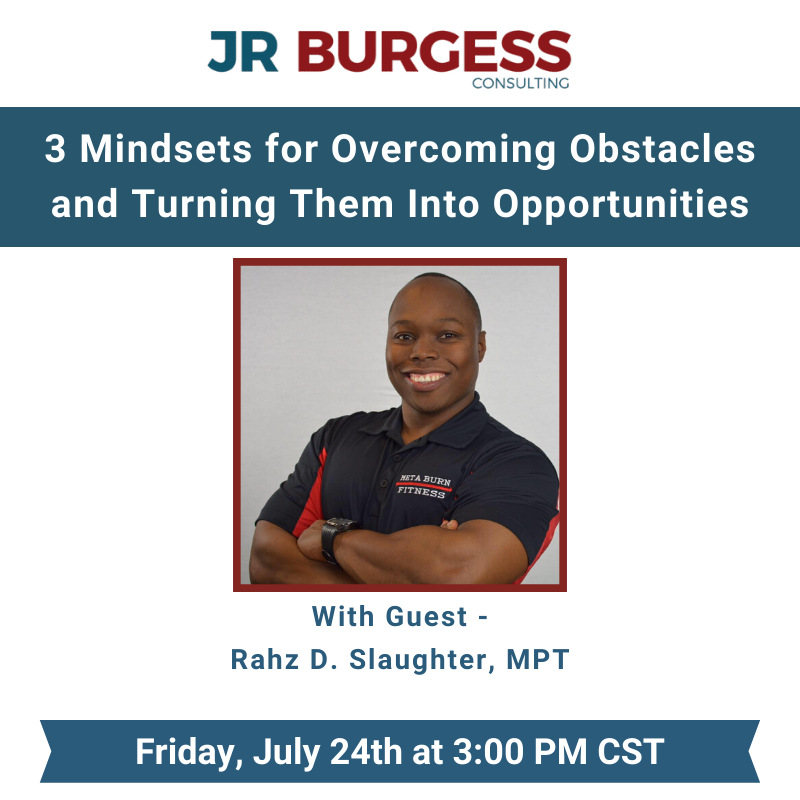 How Rahz Slaughter used a powerful mindset to shift his physical and learning disabilities into fuel for creating life of purpose and success. On this webinar Rahz will share his story and 3 mindsets that will help anyone who wants to learn how to create a powerful mindset and learn how to overcome setbacks and challenges.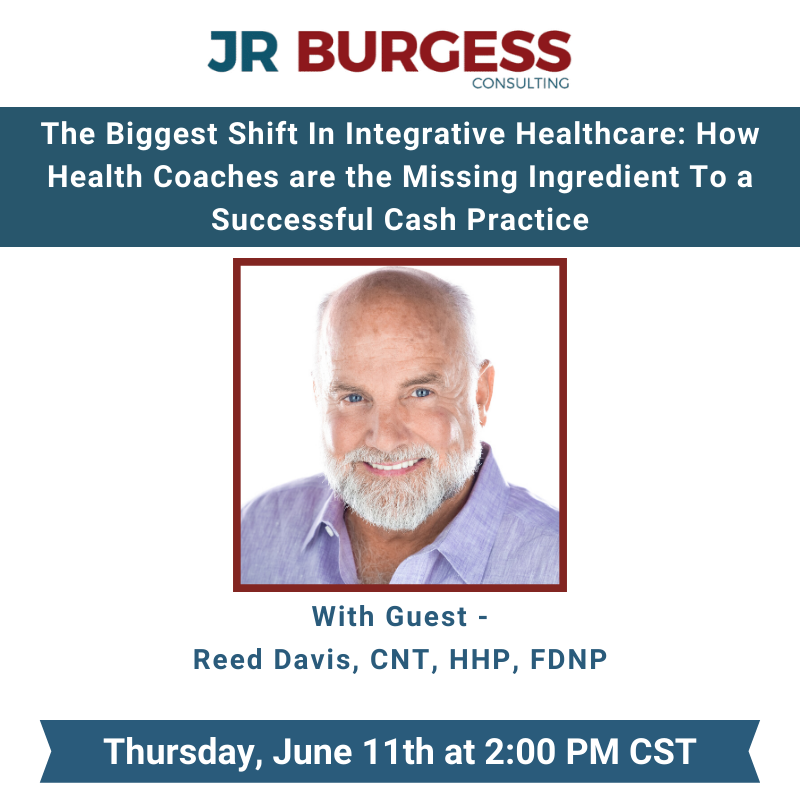 If you're a practitioner in the integrative or functional space, you don't want to miss this Webinar.
Reed and I will be discussing everything you need to know to create the practice you've always dreamed of.
We have seen the magic of using Health Coaches, Personal Trainers and Case Managers as the key ingredients to build a profitable practice that matters.
It's time for effective change: Time to end Racism, Oppression and Healthcare Monopoly. It's time to do what's best for all of humanity by integrating preventative and lifestyle medicine as the best next step in healthcare reform.
Learn the least risky steps to implement what we have created as one of the most successful clinical models of our time, in the most affordable and efficient approach to date.
You've been frustrated with "sick care" for a long enough.
The Future of Integrated Healthcare has arrived for all of us due to the massive worldwide online shift. It's time to act now or be left behind by those who will adapt profitably.
Listen in for a life-changing opportunity to get on the front wave of how to do impactful and profitable integrated healthcare. The timing of what is happening is in your favor. There is a super lean and affordable way to create the profitable and effective health and fitness model of the future.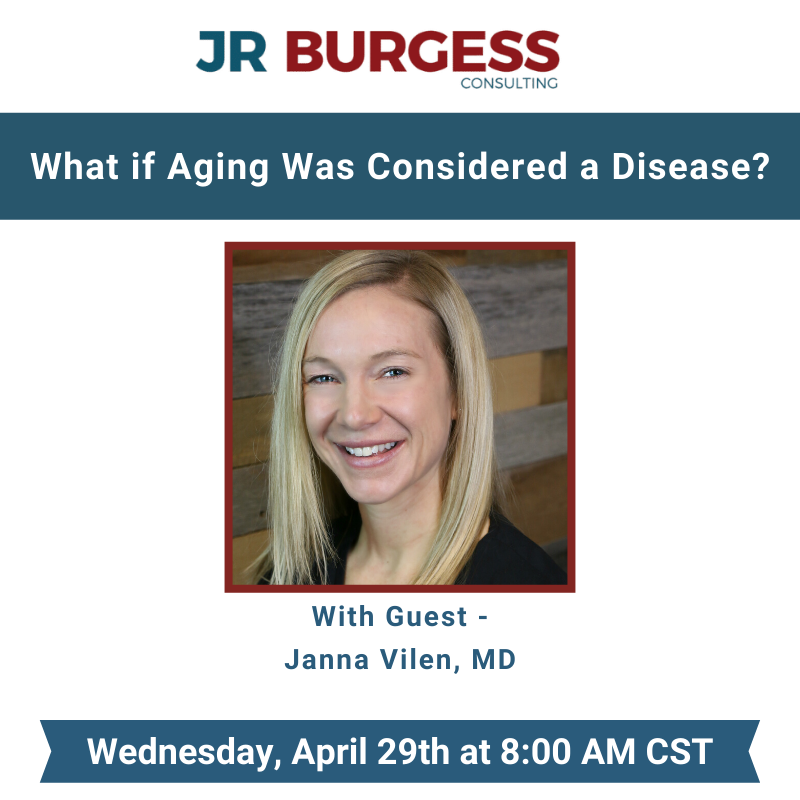 How would things be different if aging was considered a disease? If we didn't have to wait for the pain and limping, or dysfunction to start before we could do something about it, and the treatment plan was recognized by doctors, hospitals, insurance carriers, and patients. Join us to learn what does "anti-aging" really mean, and how do you start your journey now.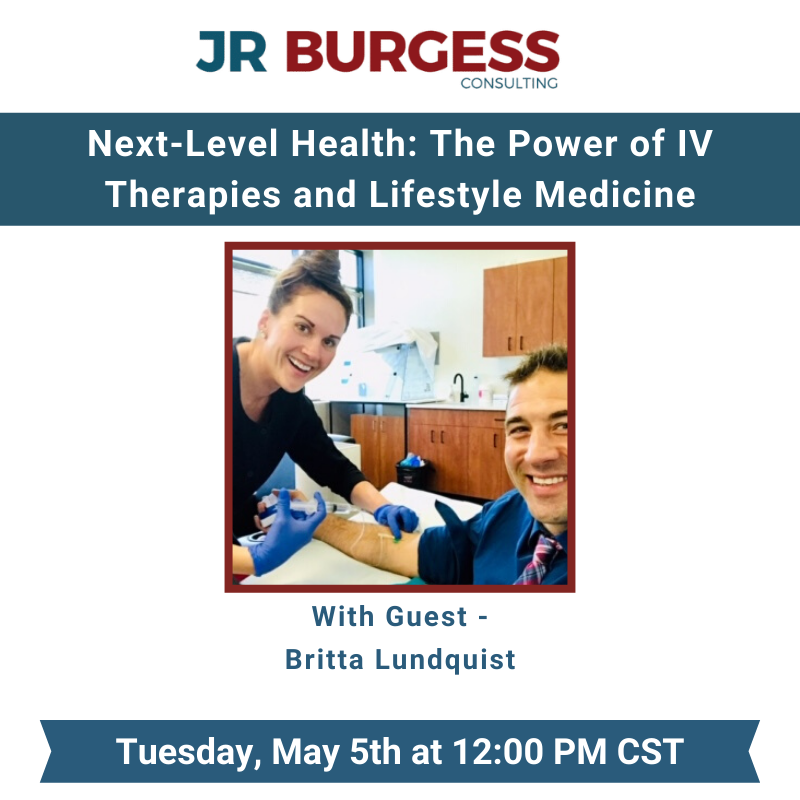 Join Britta and I as we discuss how IV vitamin drips can be used both proactively to maintain optimum wellness as well as to treat acute and chronic conditions. We will also discuss how nurses, health coaches and personal trainers can be better utilized in health-centers worldwide to address the chronic pain and disease epidemic. She and I have worked together for 15 years in health and fitness.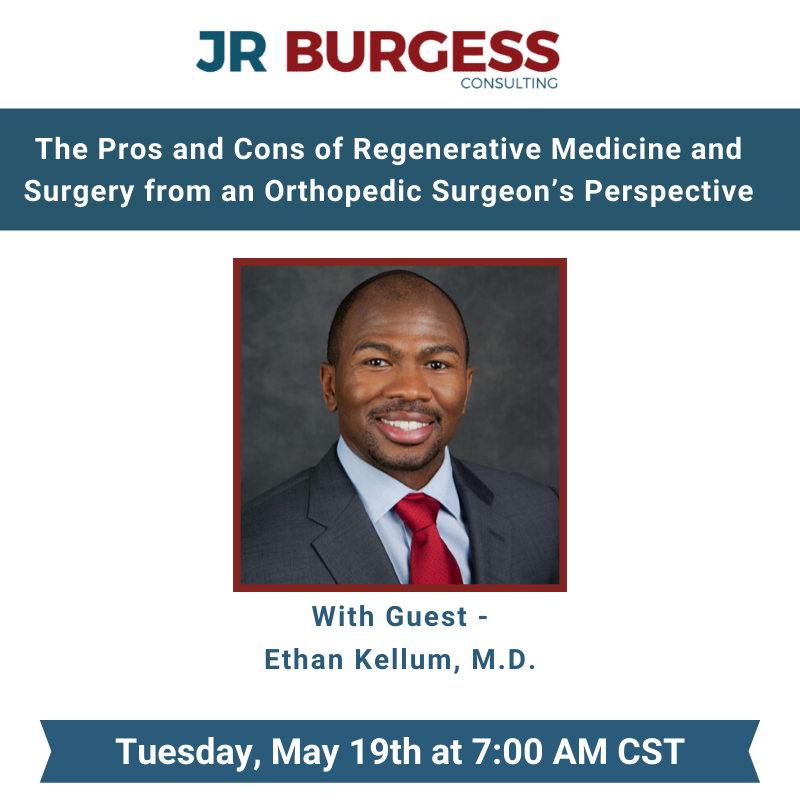 Dr. Ethan Kellum is very excited to be part of the emerging and innovative field of interventional and regenerative orthopedics. As a sports medicine fellowship trained orthopedic surgeon, Dr. Kellum intimately knows musculoskeletal injuries and joint conditions. With this knowledge he knows the value of getting patients back to the sport of life without surgical intervention. Although Dr. Kellum still performs arthroscopic surgery of the shoulder and knee, his main focus is regenerative medicine (stem cells and platelet rich plasma) and keeping patients out of the operating room.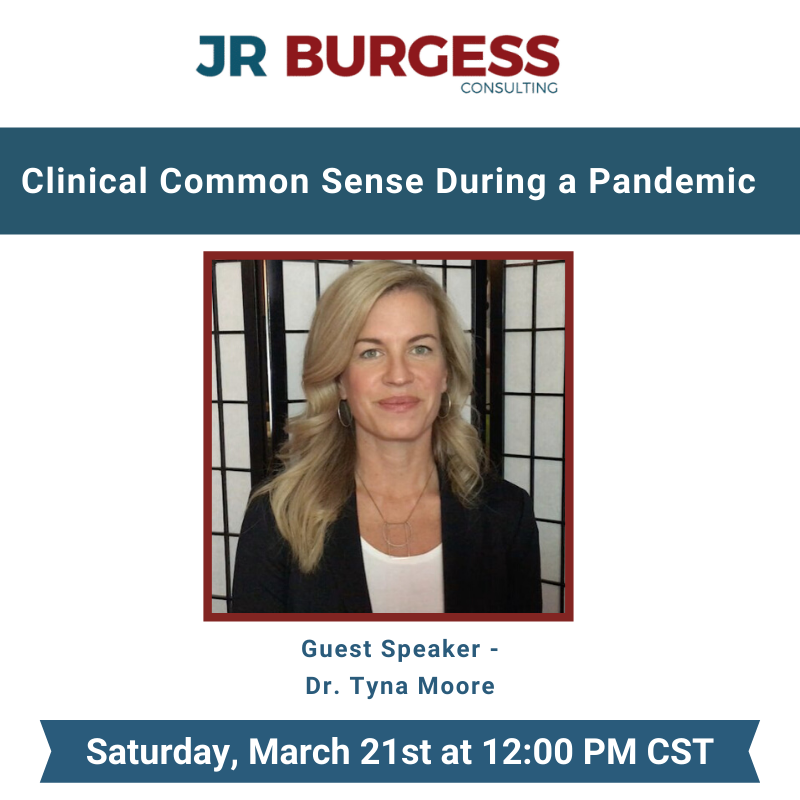 Resiliency is the name of the game in these uncertain times. Join Dr. Tyna Moore, Naturopathic Physician as she discusses simple measures you can take right now to stay in optimal health. The key is building a resilient base of health and this is where Naturopathic Medicine shines.
Kaylea Boutwell Lenarz MD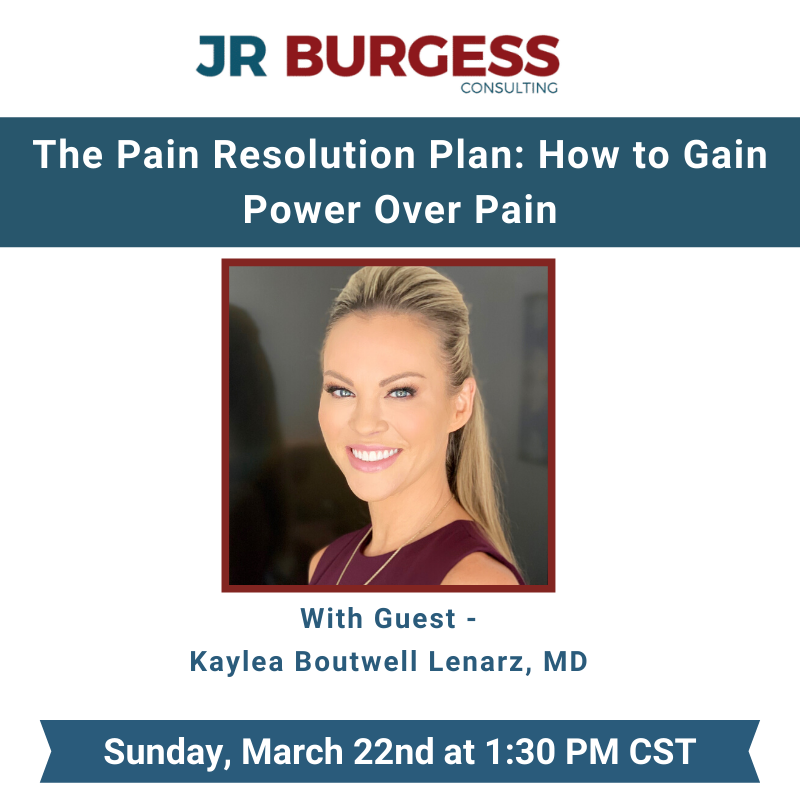 Pain Management is no longer acceptable. You deserve to know all your options. Learn how the 4 Step: "Pain Resolution P.L.A.N." may be the ideal solution to gain Power Over Pain for good.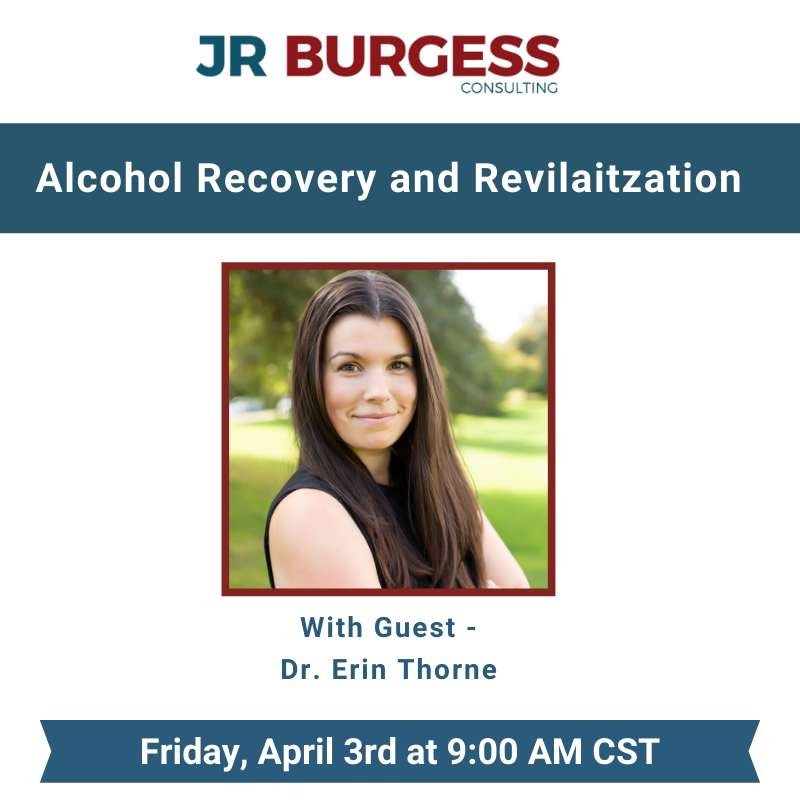 A dive into alcohols impact on nutrients, mood, weight, and accelerated aging.
Dr. Erin Thorne is a licensed Naturopathic Doctor and emerging expert in regaining health after chronic alcohol use. She primarily works with men and women to regain vitality after the toxic impacts of alcohol. Her other focuses include mental health, thyroid function and women's hormones. She uses functional lab testing, nutrition counseling, targeted nutrient therapies and lifestyle changes to address symptoms of weight gain, fatigue, mood swings and more. She owns her own practice in Seattle, WA and is currently working with patients via telemedicine.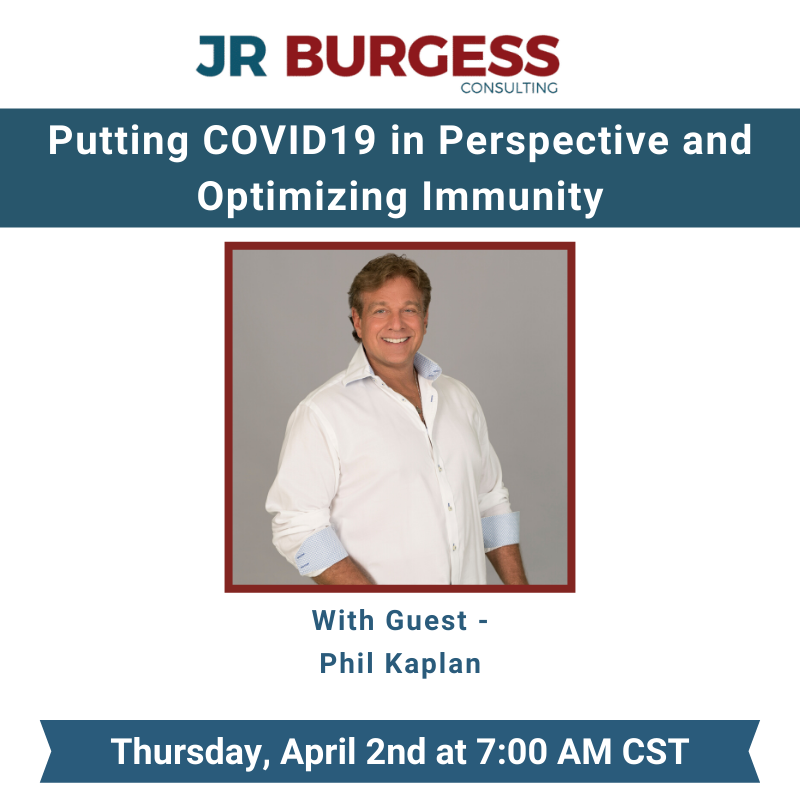 This is scary, and justifiably, but far less threatening for those who understand the power of two innate systems, the Immune System and the Parasympathetic Nervous System, both vitally important at times like these. Phil will help you understand how optimizing these systems proves healthful, protective, and powerful in overcoming disease including viral pathogenic disease. The principles he'll share are highly relevant, not only now, but far into the future.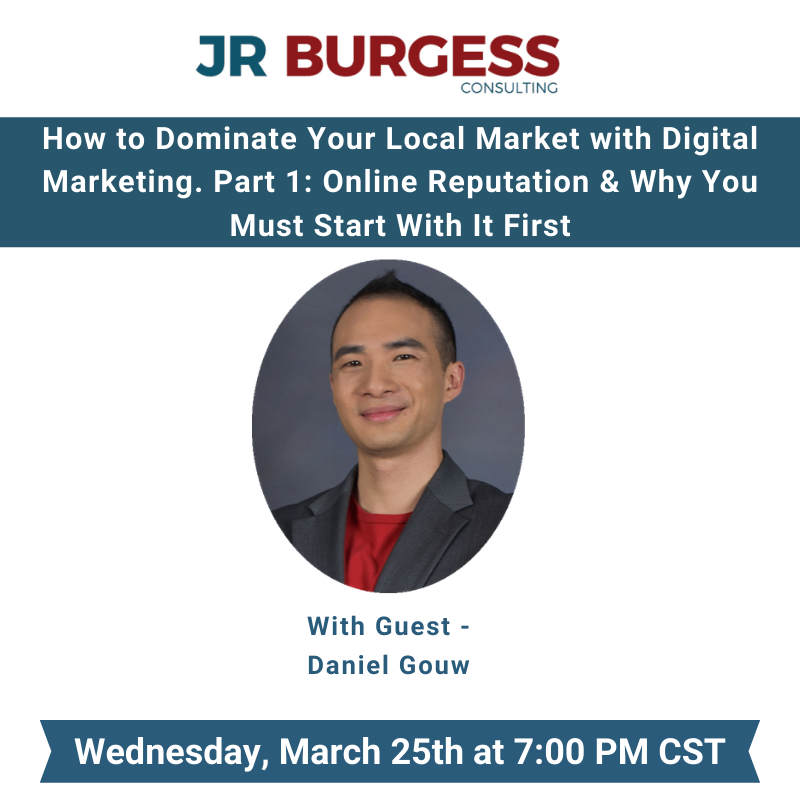 Learn the 4 Pillars necessary to succeed online and dominate your local market.
During this session we will break down the components  of online reputation and why it's the first step for any online marketing strategy.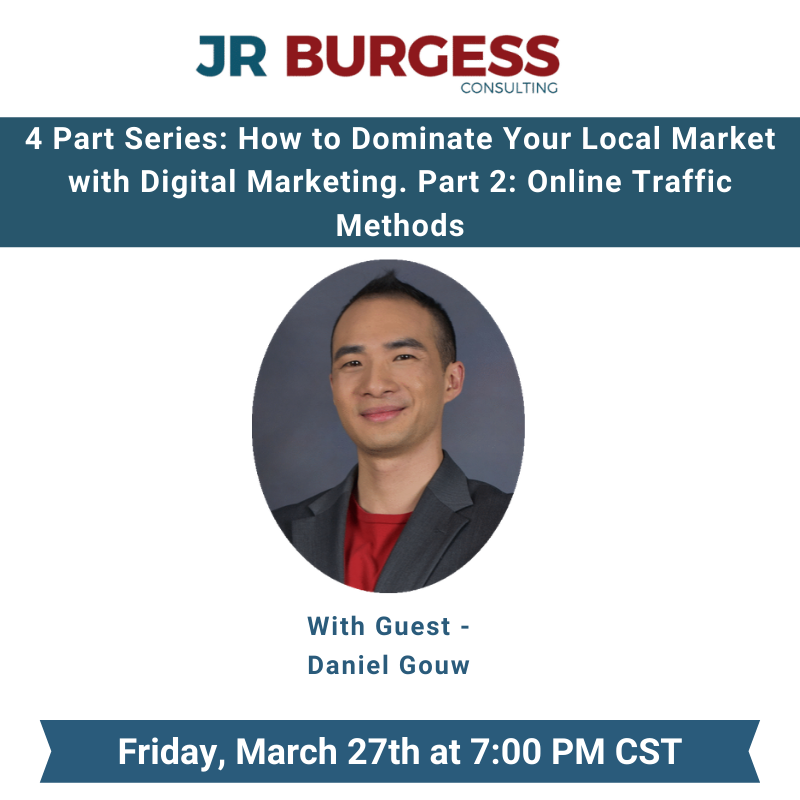 Part 2: How to get patients the fastest with Direct Online Traffic Methods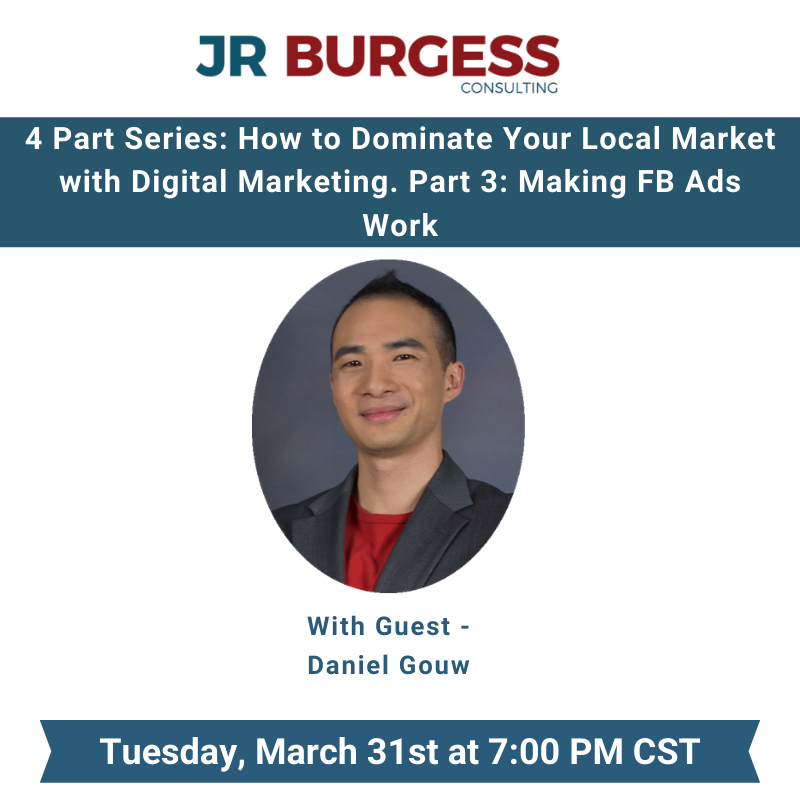 Part 3: Why Facebook Ads don't work for most people and how to make them work for you
-Why Facebook Ads is most likely not working for you - and how to change that
-The hidden side of Facebook Ads that separates successful practices from unsuccessful ones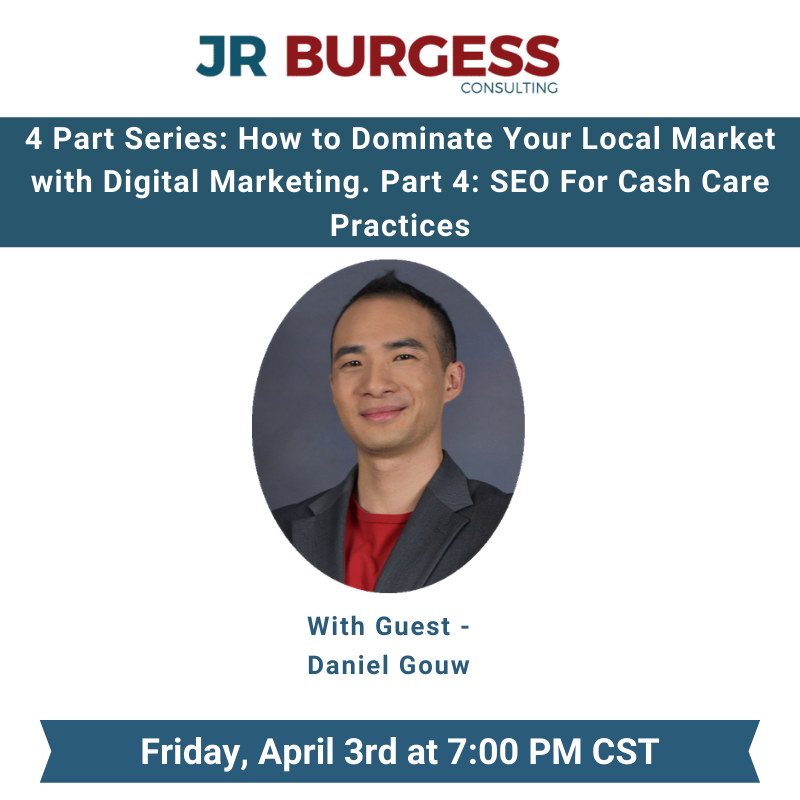 Part 4: How to be found at the top of online search using Search Engine Optimization
-The most impactful factor Google uses to rank you online – that you never even knew existed
-How to show up on the first page of Google search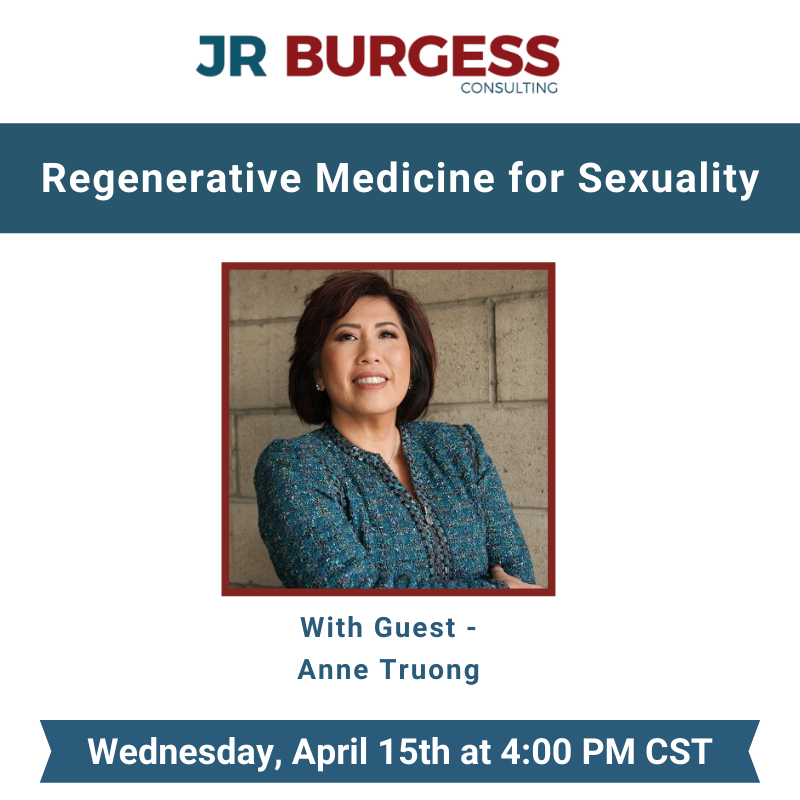 Sexual dysfunction is not often discussed, but is as prevalent as cardiovascular disease. We will discuss innovative treatments for sexuality with regenerative medicine and low intensity acoustic shock wave therapy for men and women.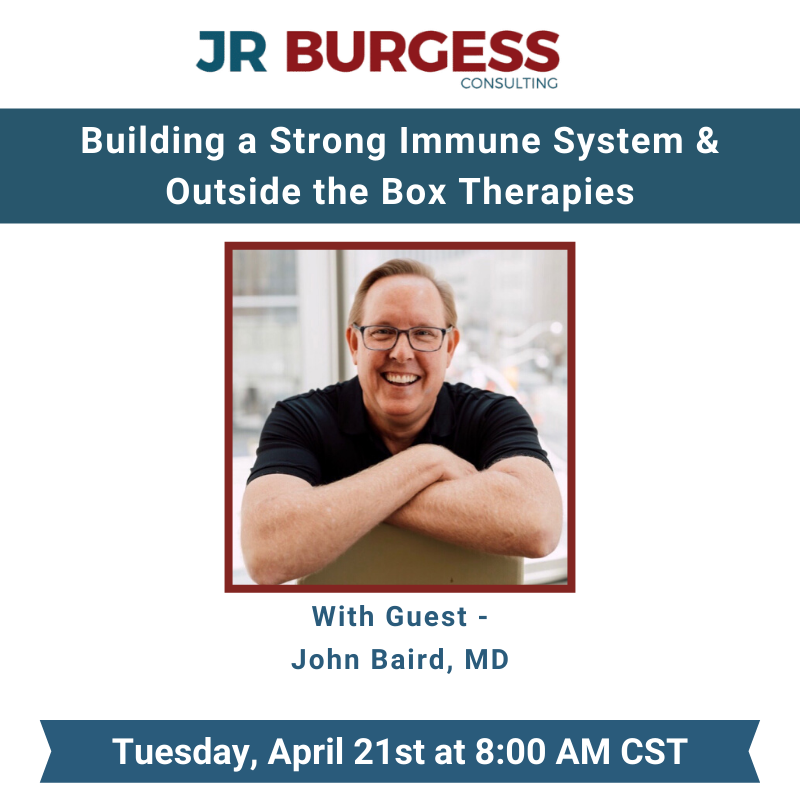 Functional medicine expert Dr John Baird is going to sit down with me to review what all of us can do to strengthen our immune system and reduce the potential of getting COVID- 19. He will also present some out of the box treatments not being mentioned in the media.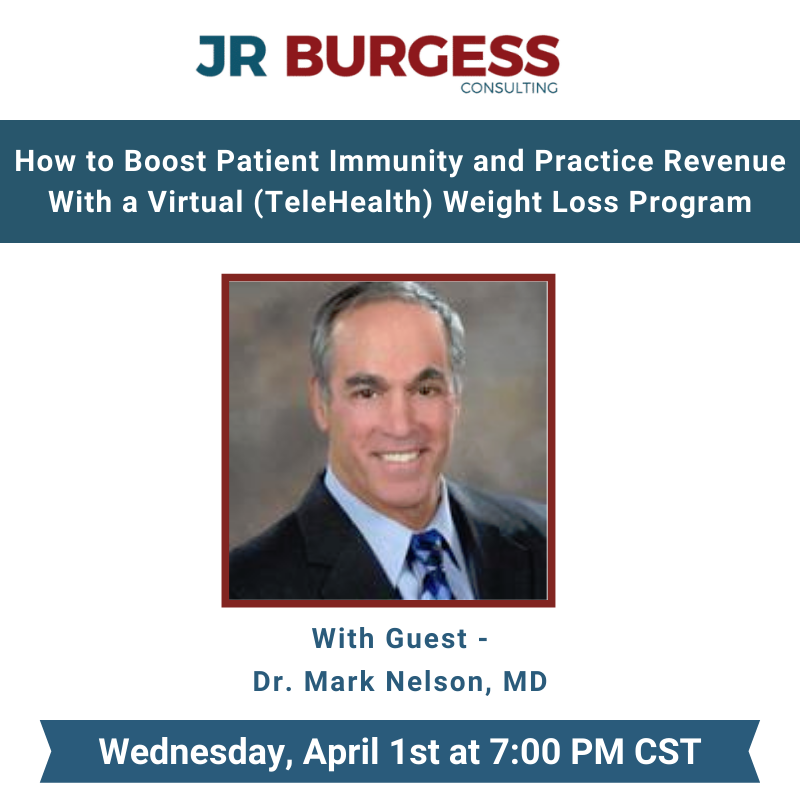 A retired Cardiologist, Dr. Nelson's medical background includes years of clinical work as a Board Certified Cardiologist specializing in Preventing Cardiovascular Disease as well as a background in Public Health (MPH from Harvard & Columbia), working as an EIS officer for the Centers for Disease Control and Occupational Health & Safety work under an OSHA grant. He has given many CME accredited talks on Preventing Cardiovascular Disease and addressing the Overweight & Obesity Epidemic.
For over 20 years, Dr. Nelson has been helping patients and others lose weight and create healthier lives. Currently, he shares an evidence based weight loss and wellness program and business opportunity with Health Professionals. Using a robust virtual weight loss & wellness program and business opportunity, health professionals can improve clinical outcomes and generate ancillary income without billing or ICD-10 codes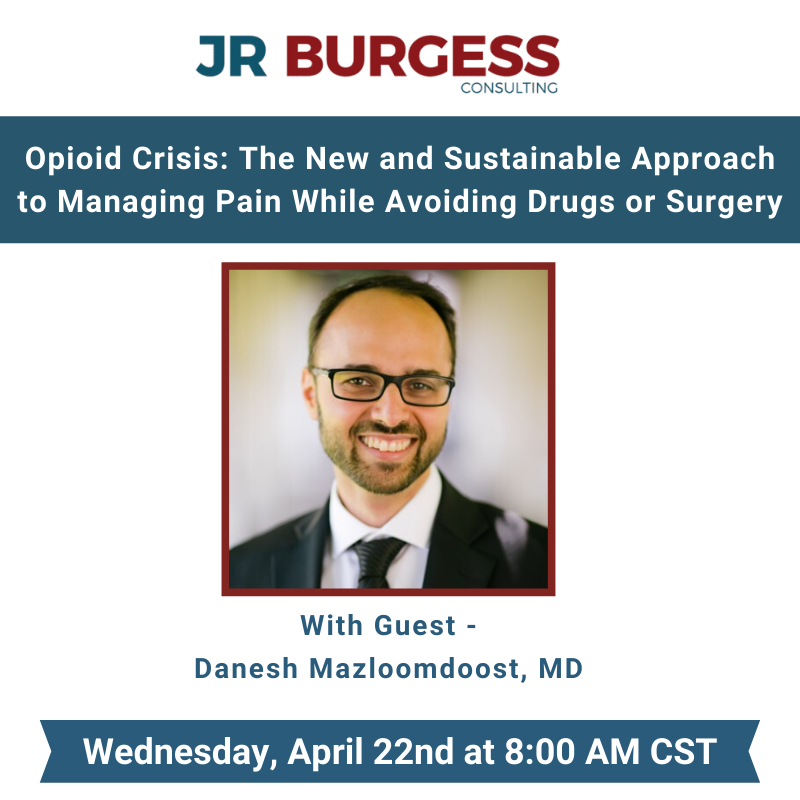 Danesh Mazloomdoost, MD is a Johns Hopkins & MD Anderson trained anesthesiologist, pain, and regenerative specialist. As an international speaker and advocate for reform in pain management, Dr. Danesh consults with private and governmental organizations to develop protocols for pain that minimize opioid dependency, improve patient satisfaction and health outcomes. He is the author of the international best-seller "Fifty Shades of Pain: How to Cheat on Your Surgeon with a Drugfree Affair" and the Medical Director of Wellward Regenerative Medicine in Lexington Kentucky, the flagship for a new and sustainable approach to managing pain while avoiding drugs or surgery.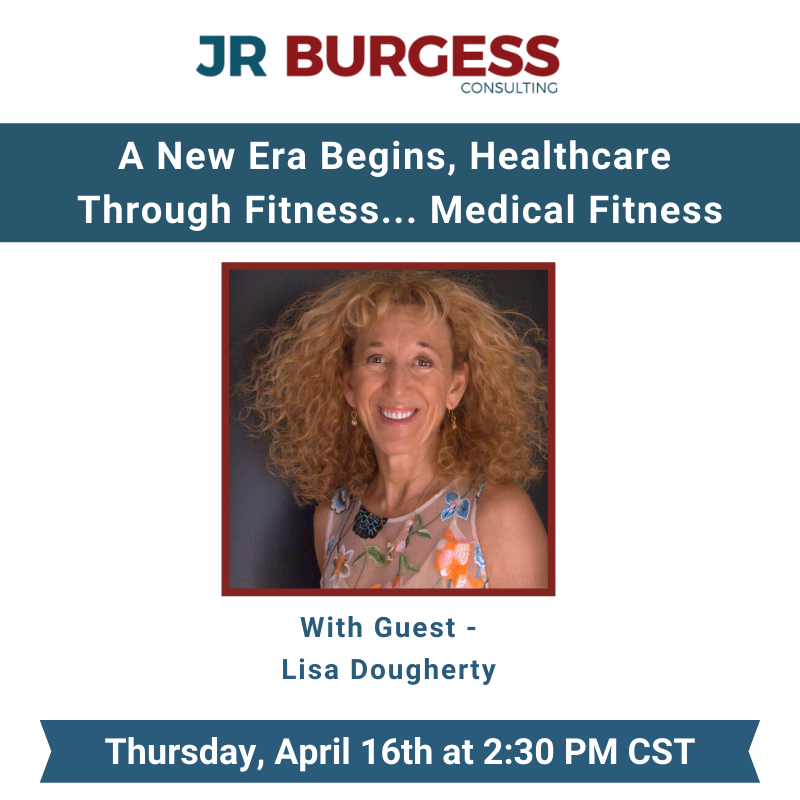 There has been an awakening in our nation and around the world about the importance of health. After this pandemic we are still facing a chronic disease and obesity crisis. This is a huge opportunity for the educated fitness, healthcare & medical professionals to unite and be pivotal players in our nation's healthcare system.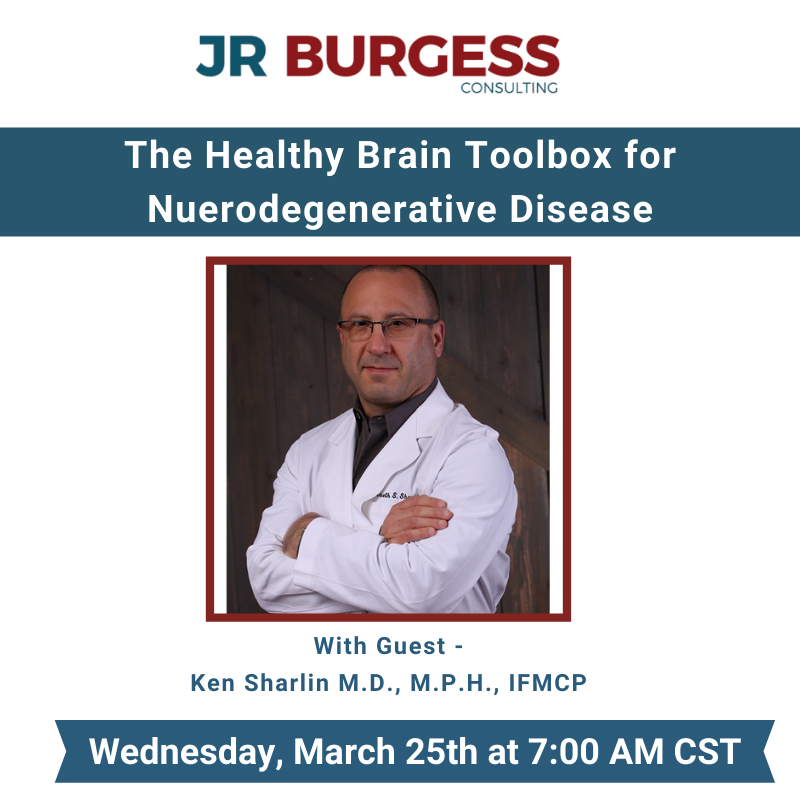 At last, neurologist-proven strategies to improve your memory and protect yourself against age-related diseases of the brain! The science and the "art" of functional medicine for the brain are laid out in this book. Dr. Ken Sharlin shows us how the individual pieces of the puzzle are integrated and nurtured along in a stepwise, achievable fashion, while recognizing the uniqueness of each individual who makes this approach their own.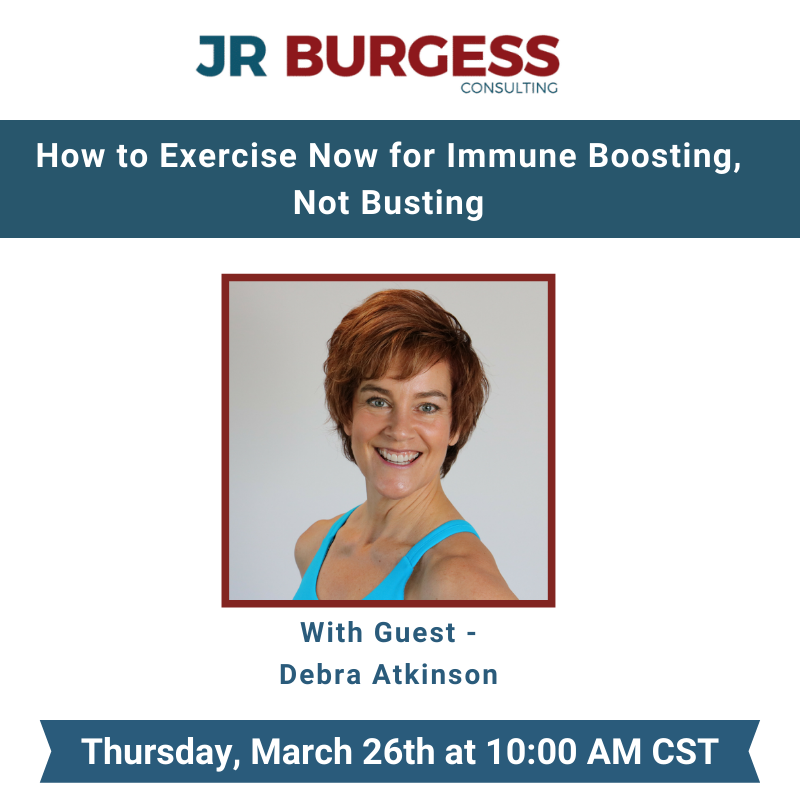 How should you exercise right now to build up your immune system? What signs will your body give you if it's too much or too little? If you're not used to exercise should you start? If you're an exercise lover should you change at all?
Tips and tricks for this moment you're in.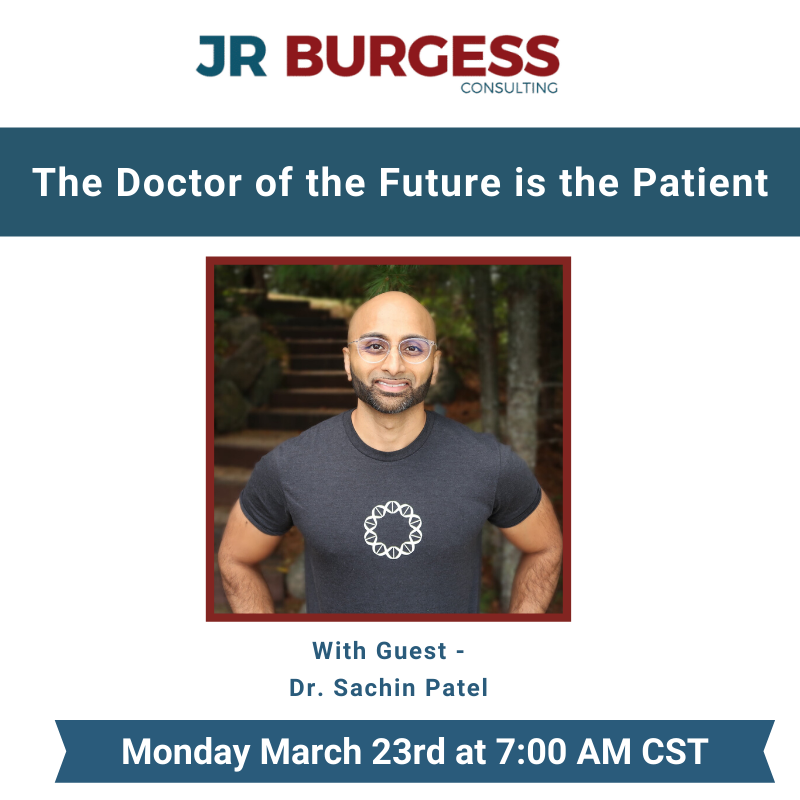 Join us and learn how to become your own best doctor. Learn simple, effective, and FREE strategies to improve your health instantly. Discovery some of the best tools to track your vitality.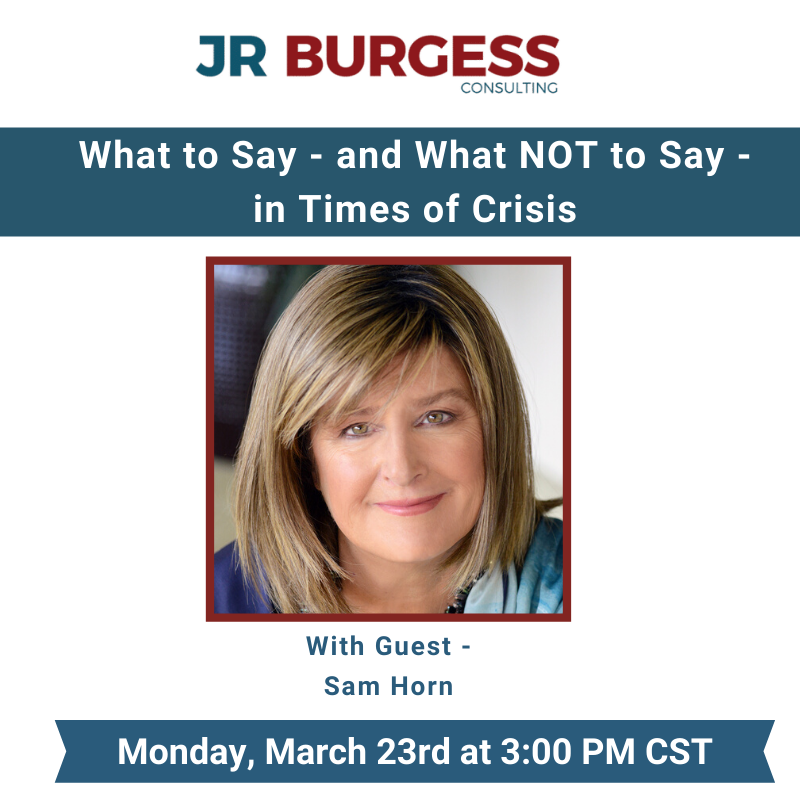 Words matter. Many experts are using INFObesity in their communications to patients and the public. INFObesity (medical jargon, technical concepts, confusing statistics) go in one ear and out the other. Sam Horn, author of the book Tongue Fu! and Got Your Attention?, will share WORDS TO LOSE and WORDS TO USE when making recommendations regarding the CoronaVirus and Covid19. Discover for yourself why Sam's been hired by Kaiser Permanente, Cisco, Intel, Four Seasons Resorts, Nationwide, NASA and Capital One to train their employees how to communicate more clearly, compellingly and confidently.
Sam Horn, Founder and CEO of the Intrigue Agency, is on a mission to help people create quality communications that add value for all involved.
Her 3 TEDx talks and 9 books - including Wash Post bestseller Got Your Attention?, ConZentrate, POP! and What's Holding You Back?- have been favorably reviewed in Publishers Weekly and Library Journal and endorsed by Seth Godin, Dr. Stephen Covey, Marshall Goldsmith and Dan Pink.
Sam is the originator of the trade-marked communication process called Tongue Fu!, which has been published in 17 languages and taught to schools, associations, government agencies, and corporations.
A frequent media resource, Sam's work has been featured on NPR, in the NY Times, Harvard Business Review (Ascend), Investors Business Daily and Readers Digest. She's been interviewed on top-ranked podcasts including John Lee Dumas' Entrepreneur on Fire and on every major network, including NBC's Tonight Show and To Tell the Truth … where she and her Tongue Fu! team stumped the panel.
Sam has had the privilege of speaking to more than a half million people worldwide and for hundreds of organizations NASA, National Geographic, Accenture, Cisco, Boeing, Intel, American Bankers Assn. YPO, Capital One, Four Seasons Resorts, Asian Leadership Conference, Ernst Young and Nationwide and at events in Geneva, Seoul, Berlin, London, Beijing, Dublin, and Amsterdam.
Sam's specialty is helping people crystallize one-of-a-kind communications - books, brands, businesses, causes, campaigns, fund-raising pitches and high-stakes presentations (e.g., TED-MED, United Nations, World Economic Forum at Davos, etc.) - that scale their income and impact, for good.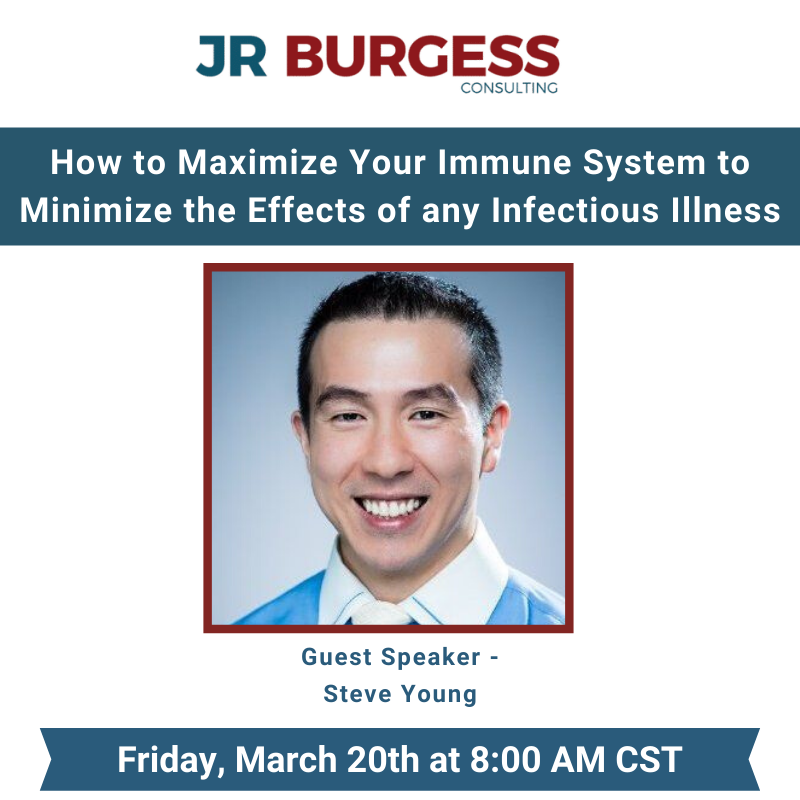 Steve Young, DPT is the Head of Research and Development at Metabolic Ammortal and is dedicated to developing a new model of healthcare. On top of the usual transformational work of identifying the main root causes of blockages, he has natural tips to keep your immune system and body in peak state.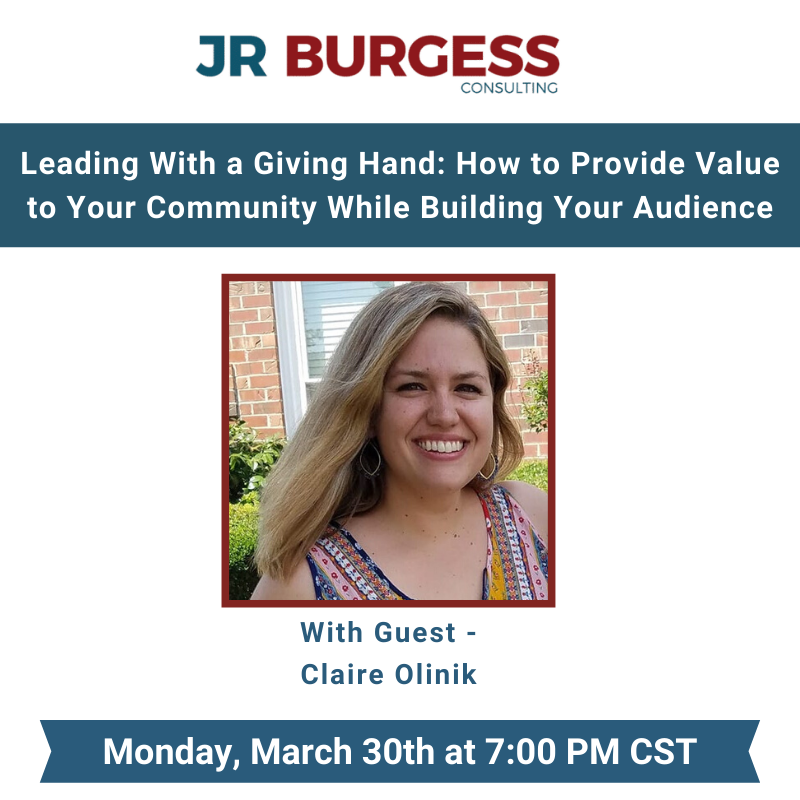 What does it mean to be a leader in your community during these times? As many folks find themselves struggling with uncertainties in their day-to-day lives, now is the time for community leaders to bring their audiences together. Join JR and Claire as they discuss the best ways to offer your voice to your communities without a hard sell - and learn why leading with a giving hand now can cement your authority in your community for months and years to come.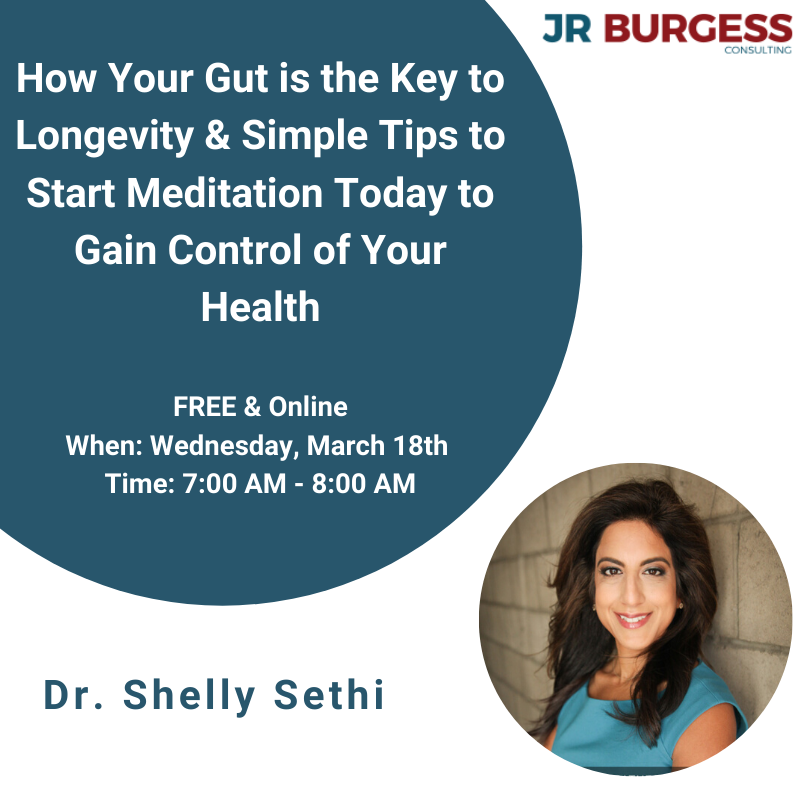 Dr. Shelly Sethi MD has been a huge part of my families health and my personal transformation over the last year. Yes, I had parasites and strep for who knows how long. She also recommended me to start practicing meditation. If you know me, slowing my brain is a massive challenge. She gave me tips that made me feel much better about where to begin, and you need to hear them as well. Then you can join us in a wonderful and quick guided session.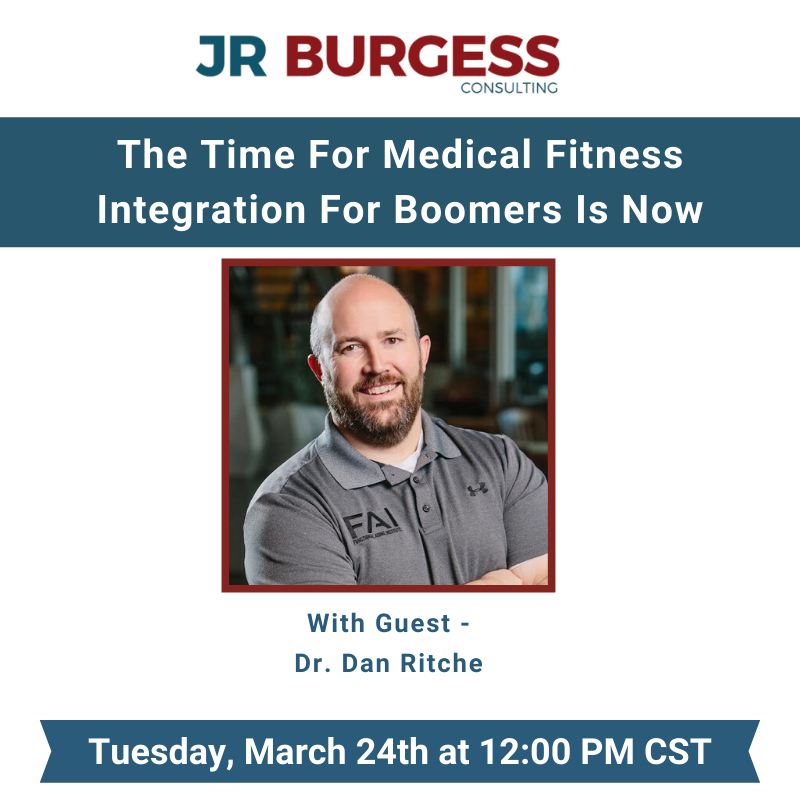 Dan Ritchie, PhD, is a recognized leader in exercise programming for older adults and was honored with the 2014 Personal Trainer of the Year award by Personal Fitness Professional (PFP) magazine. He is the president of the Functional Aging Institute, author of the best-seller Never Grow Old, and has decades of experience in the fitness industry in training and management that has included commercial, non-profit, hospital and university-based facilities. During his career, Dr. Ritchie has worked successfully with Division I athletes as well as with special populations including post-stroke, Parkinson's, Fibromyalgia and Alzheimer's. He is also the co-owner of Miracles Fitness, a one-on-one and small group training facility specializing in mature clients.