The Influential Doctor

Even if You're Just Starting Out...
The Influential Doctor is the marketing and sales playbook for physicians and wellness professionals who want to make a greater impact and increase their income through cash-pay services and recurring income models.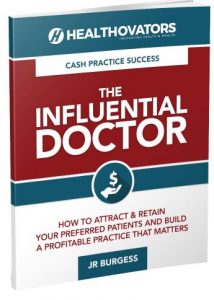 The Influential Doctor is the marketing and sales playbook for physicians and wellness professionals who want to make a greater impact and increase their income through cash-pay services and recurring income models.
If you'd like to own a successful practice or wellness center, the step-by-step marketing protocol inside this book will teach you how to clarify your message, establish your authority brand, and connect with patients who want and need what you have to offer.
The healthcare industry is changing rapidly. Now, more than ever people are seeking expert medical care outside of the traditional insured network and we've aggregated over 10 years of experience studying and testing to identify what works at our facilities and for over 100 physician client practices around the world.
Taken straight out of the playbook of  "Cash Practice Success", the marketing and sales protocol outlined in this book contains the resulting proven effective, time-tested, best marketing investments to attract and convert cash-paying patients into your medical or wellness center – even if you're just starting out.
HealthOvators is dedicated to becoming the leading resource for independent physicians and wellness professionals who want the most current, up-to-date and forward-thinking techniques and strategies. This short guidebook by HealthOvators CEO JR Burgess defines an influential marketing and sales model to create a seven-figure cash practices for the impact, income, and freedom you want and deserve for transforming lives through better care. Together we can redefine the healthcare system with measurable outcomes that improve the quality of life for our patient. You are the key to change. It's time to live a new paradigm – this book shows you how.
If you're like most medical professionals you don't wake up with a passion for sales and marketing.
That is why I created the shortest overview possible, that tells you exactly what you need to be able to have the independence to practice medicine you know works while making a great living.
Many marketing and sales professionals that are hired rarely deliver the results you would expect for what you're investing.They may be good at one part of the puzzle, but you need the whole strategy to have a waiting list of cash patients of over a month long.
Typically, you can count on outside vendors to build their part of the infrastructure. Many are able to bring in some leads, but I often hear how they are not the ideal patients and don't convert into cash services or procedures.
This is because you need all the parts of strategy to work together, and in the right order.
For instance, many practices hire agencies to run social media ads and key-word management, but there is no foundation in place that builds the "know, like, love and trust". You're basically asking for sex before you've even met. That works for some who are looking, but nowhere near the majority.
For a sustainable foundation you need a powerful headline, engaging web copy, a unique branded protocol, opt-ins that provide valuable information and solutions to some of your prospect's problems.
Once you obtain a lead you need autoresponders that educate, handle objections through patient transformation stories, have built empathy, authority, trust and can help the patients understand your unique journey of transformation.
Then you need a team who all knows how to operate your system. Each must execute their individual role on a high level and know how to communicate cash medicine; the front, the providers, assistants and anyone in contact with patients. Every person is responsible for the marketing and sales success of your practice.
If you have solutions that can help the world it's your duty to learn how to ethically and morally learn how to communicate, influence, motivate and enroll people into your programs. We teach practices on how to sell without selling.
We invested millions to learn the whole formula that successfully works in our clinics. As a result, we built one of the largest integrated centers in the world. We have made all the mistakes for you. Over 100 practices have been guided on what to do and what to avoid. Those who follow get consistent and predictable results. It takes work, but it's so worth it.
I'm so excited for my new book to explain the breakdown of the entire marketing and sales strategy that has helped us make a huge impact on the world. I know how much it's going to help you.
So we need your help to change the world. At a minimum, read chapter 3 so you never don't know the whole strategy. You can outsource the build-out of your marketing and sales system, however you have to have the right order to have the best success. If you liked chapter 3 keep reading. Be part of the solution to help those who need you!
Besides successful clinical outcomes, relationship based marketing and sales has been the game changer in our growth!